2017 FRONT PAGE AWARD RECIPIENTS
Protests at Standing Rock, the opioid crisis, cyber crime, racism, America's wild horses, Watergate 45 years later and African migrants were among the subjects covered by this year's Front Page Award winners. The Front Page Awards, presented by The Newswomen's Club of New York, honor journalistic excellence by newswomen working in print, broadcasting, wire services, photography, and online.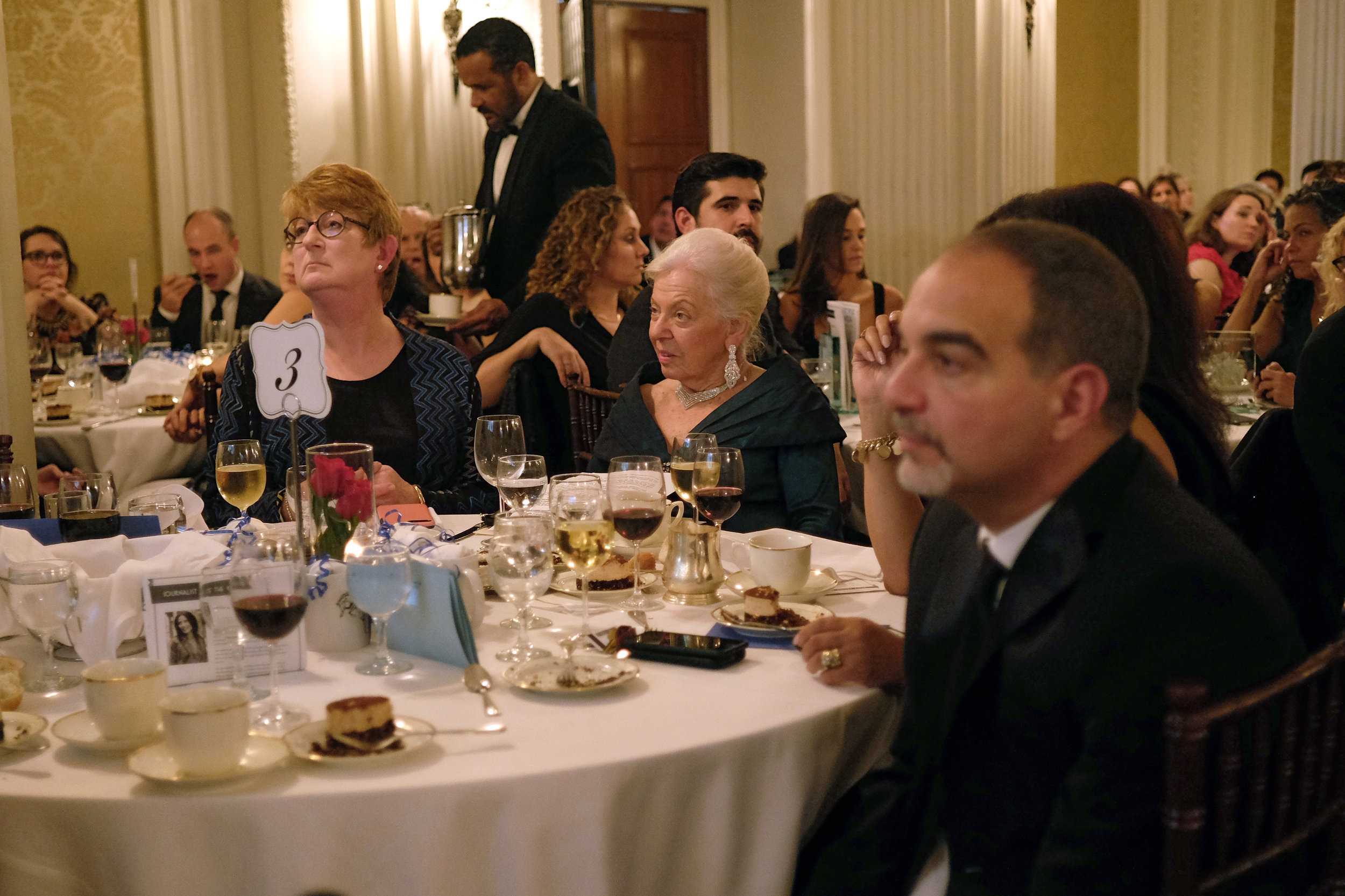 HIGHLIGHTS
The Martha Coman Front Page Award for Best New Journalist will go to Lizzie Presser, a freelance journalist, The Investigative Fund/The California Sunday Magazine.
The Nellie Bly Award for Best Bylined Front Page Story will go to Maureen Farrell of the Wall Street Journal.
The Marie Colvin Award for Foreign Correspondence has been won by Selam Gebrekidan of Reuters.
The Front Page Award for Journalist of the Year will go to freelance journalist Jenni Monet for her coverage of Standing Rock for multiple news organizations including the center for Investigative Reporting, PBS NewsHour, Al Jazeera, and High Country News.
The Front Page Award for Lifetime Achievement will be presented to Juju Chang, co-anchor of ABC News Nightline.
The Newswomen's Club of New York, established in 1922, is the only professional organization in the New York area dedicated to supporting newswomen. The Front Page Award, established in 1937, exemplifies the Club's mission to promote exceptional work by newswomen and support the highest standards of journalism.
The 2017 Front Page Awards will be presented at a black tie gala on November 9, 2017. Ticket information can be obtained at newswomen@newswomensclubnewyork.com.



COMPLETE LIST OF 2017 FRONT PAGE AWARD WINNERS
ONLINE
Spot News
Melissa Mittelman, Jennifer Kaplan, Jing Cao, Laura Colby, Bloomberg
"Behind CEOs' Trump Rift, Frantic Hours of Calls, Calculation"
In-Depth Reporting
Francesca Berardi, Sarah Carr, Zoe Kirsch, reporter, the Teacher Project at Columbia Graduate School of Journalism / ProPublica /Slate
"How for-profit alternative education is failing America's most vulnerable students"
Feature
Sharon Lerner, The Intercept
"The Strange Case of Tennie White"
Digital Video
Sky Dylan-Robbins, NBC Left Field
"America's Wild Horse Population is Skyrocketing, and Nobody Can Agree How to Fix It"
Multimedia News Package
Emily Kassie, freelance investigative journalist, photographer, filmmaker, The HuffingtonPost
"The 21st Century Gold Rush"
Blogs
Sarah Ellison, Vanity Fair
WIRES
Spot News
Michelle Nichols, Reuters
"Grass guns, rape, hunger and hate replace school in S.Sudan's Wau"
In-Depth Reporting
Chris Prentice, Reuters
"Exclusive: Inside edge - Trump advisor Icahn's big bet against biofuels credits"
Beat Reporting
Ellen Wulfhorst, Thomson Reuters Foundation
Feature
Michelle Conlin, Reuters
"Student loan borrowers, herded into default, face a relentless collector: the U.S."
NEWSPAPERS
In-Depth Reporting
Jeanne Whalen, The Wall Street Journal
Reporting on the opioid crisis
Beat Reporting
Emma Fitzsimmons, The New York Times
"The Decline of Mass Transit."
Feature
Nicole Hong, The Wall Street Journal
"Former Isis Recruit Now a Weapon Against Terrorism" and "U.S. Officials See Terror Intervention as Possible Future Model"
The Nellie Bly Award for Best Front Page Story
Maureen Farrell, Wall Street Journal
"Tech Founders Want IPO Riches Without Those Pesky Shareholders"
PHOTOGRAPHY
Best Front Page Photo
Stephanie Keith, Freelance Photographer for Reuters "Pipeline Protest in North Dakota"
Breaking News
Alejandra Villa, asst. photo editor, Newsday "This One is Yours Lord"
Feature
Susan Watts, Daily News, "Tap Dancing Hands"
Photo Essay
Susan Watts, New York Daily News 'Gloria"
Sports
Julie Jacobson, AP 'Mismatch'
RADIO
Feature
Sara Fishko, Olivia Briley and Karen Frillmann, WNYC
"United States of Anxiety, Episode 4: Music, McCarthy, and the Sound of Americana"
In-Depth Reporting
Brooke Gladstone, Katya Rogers, Meara Sharma and Eve Claxton, WNYC
"Busted: America's Poverty Myths"
TELEVISION
Special Programming (Public Affairs or Editorial)
Rachel Maddow, Cynthia McFadden,Anna Schecter, Hannah Rappleye, and Tracy Connor, MSNBC
"Not Wanted: Black Applicants Rejected for Trump Housing Speak Out"
Special Reporting Series (Investigative or Enterprise)
Juju Chang, Jackie Jesko, Jenna Millman and Roxanna Sherwood, ABC News
"Nightline - Femicide: The Untold War"
Feature
Gianna Toboni, Nicole Bozorgmir, Paula Salhany, Claire Ward, Daniela Quiroz, VICE
"Trans Youth"
Interview
Juju Chang, Roxanna Sherwood Jenna Millman, Nadine Shubailat, Lisa Soloway, Meagan Redman, Jasmine Brown, Laura Coburn and Meredith Frost, ABC News
"Nightline --- Declassified: The Chelsea Manning Story"
Documentary
Muriel Pearson, Alison Lynn, Ann Sorkowitz ,Keturah Gray, Sunny Antrim, Elissa Stohler, Emily Stanitz, Mary Kathryn Burke, Jessica Puckett, Carrie Cook, Taryn Hartman, Tami Sheheri, Maddy Cunningham, Ali Dukakis, Janet Weinstein, Olivia Garuba, and Stephanie Stadler, ABC News
"20/20 Truth and Lies: Watergate"

MAGAZINES
News
Andrea Rock, freelance journalist, Money Magazine
"Cybercrime Gets Personal"
Feature
Abigail Pesta, Women's Health magazine "First Do No Harm" and Carrie Arnold "Never Ending Nightmare",
In-Depth Reporting
Kathryn Brenzel and Elizabeth Kim, The Real Deal
"Real estate's diversity problem"
Interview
Rebecca Traiste, New York Magazine
"Hillary Clinton Is Furious. And Resigned. And Funny. And Worried."
Essay
Sandy Phillips, as told to Abigail Pesta, Mother Jones "My Daughter Was Murdered in a Mass Shooting. Then I Was Ordered to Pay Her Killer's Gun Dealer."
SPECIAL REPORTING
Sports
Kelly Whiteside, The New York Times
"Tatyana McFadden: A Paralympian Races to Remove Obstacles for the Next Generation"
Opinion
Josephine Livingstone, New Republic
"In Defense of Cultural Criticism in Trump's America" "Why Are Americans So Hostile to State-Funded Art?" "Racism, Medievalism, and the White Supremacists of Charlottesville"
Science
Lina Zeldovich, Mosaic Science
"Reinventing the Toilet"
Medicine/Health/Fitness
Abigail Jones, Newsweek
"Cancer and Sex: Why Is Nobody Talking About It?"
Business
Claire Brown, The New Food Economy
"How North Carolina became the home of Japan's #1 candy"
MARTHA COMAN AWARD FOR BEST NEW JOURNALIST
Lizzie Presser, The Investigative Fund, Contributing Writer for The California Sunday Magazine
FRONT PAGE AWARD FOR JOURNALIST OF THE YEAR
Jenni Monet, coverage of Standing Rock for multiple news organizations including the center for Investigative Reporting, PBS NewsHour, Al Jazeera, and High Country News.
MARIE COLVIN AWARD FOR FOREIGN CORRESPONDENT OF THE YEAR
Selam Gebrekidan, Reuters
FRONT PAGE AWARD FOR LIFETIME ACHIEVEMENT
Juju Chang, ABC News "Nightline"
###